Acquiesce Winery & Vineyards
Love White Wines? Are you ready for a Rhône awakening? Acquiesce Winery offers estate grown, award-winning premium white and rosé wines lovingly created in small batches. Try our unique wines: Grenache Blanc, Picpoul Blanc, Roussanne, Viognier, Clairette Blanche, Bourboulenc, and white blends Belle Blanc and Ingénue plus a Grenache Rosé.
4 Best of Class Awards
"Several intriguing storylines emerged from the 2022 San Francisco Chronicle Wine Competition, which concluded its four-day run in Cloverdale today. None of them may be more significant than the showing of Acquiesce Winery & Vineyards of Lodi." – Mike Dunne
See The Rest of the Story
Best of Class Winners
Shop
Grenache Blanc 2020
BEST OF CLASS! this wine has lively minerality with hints of green apple and pear.
$34 / Bottle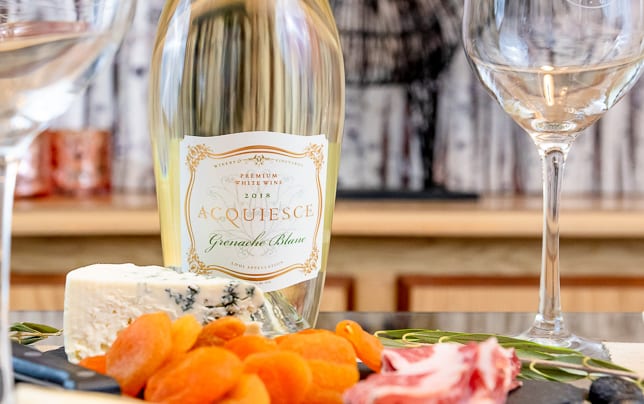 BUY A CASE
CASES SOLD OUT
Sold out
Roussanne 2020
BEST OF CLASS! Flavors of apricot and almond with crisp mineral finish and honey notes.
$38 / Bottle
BUY A CASE
CASES SOLD OUT
Sold out
Best Woman Winemaker 2022
I was fortunate to receive the honor of Best Woman Winemaker in the 2022 International Women's Wine Competition!  After falling in love with a white Chateauneuf du Pape wine, believing it was the best wine I'd ever tasted, I embarked on a quest to craft world-class white wines from our estate vineyard.
EXPLORE THE JOURNEY →
Lodi Winery of the Year!
Visit Lodi celebrates the Spirit of Tourism and honors Acquiesce Winery as the 2023 Winery of the Year!
Every year Visit Lodi's Selection Committee recognizes a Lodi Winery and Tourism Advocate who made a significant contribution to the Lodi Tourism Industry. Visit Lodi celebrates these businesses and people by inviting the community to attend the Spirit of Tourism Awards.  
Click to see video