Acquiesce Winery & Vineyards
Love White Wines? Are you ready for a Rhône awakening? Acquiesce Winery offers estate grown, award-winning premium white and rosé wines lovingly created in small batches. Try our unique wines: Grenache Blanc, Picpoul Blanc, Roussanne, Viognier, Clairette Blanche, Bourboulenc, and white blends Belle Blanc and Ingénue plus a Grenache Rosé.
4 Best of Class Awards
"Several intriguing storylines emerged from the 2022 San Francisco Chronicle Wine Competition, which concluded its four-day run in Cloverdale today. None of them may be more significant than the showing of Acquiesce Winery & Vineyards of Lodi." – Mike Dunne
See The Rest of the Story
Best of Class Winners
Shop
Picpoul Blanc 2020
Perfect summer, by the pool wine. Lovely lemon curd and spring meadow flowers in a glass!
$30 / Bottle
BUY A CASE
CASES SOLD OUT
Sold out
Grenache Blanc 2020
Our signature varietal with lively minerality with hints of green apple and pear.
$30 / Bottle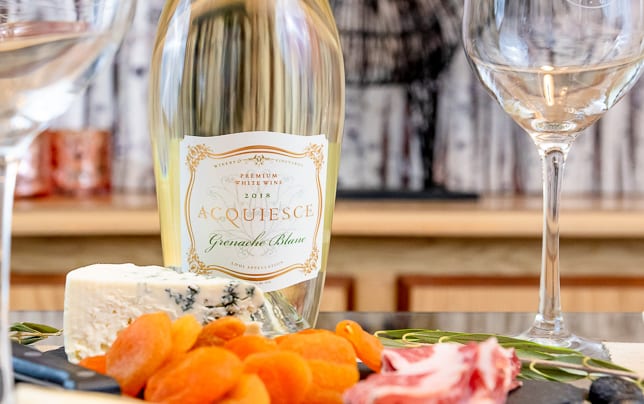 BUY A CASE
CASES SOLD OUT
Sold out
Why All White Wines?
After falling in love with a white Chateauneuf du Pape wine, believing it was the best wine I'd ever tasted, I embarked on a quest to craft world-class white wines from our estate vineyard.
EXPLORE THE JOURNEY →