Chef Liz Thompson
Liz, a native New Yorker, started her first career in Advertising and Product Management after receiving her MBA in Marking and Finance from Fordham University before she switched gears and attended the French Culinary Institute to study pastry which has been her career path for the last 25 years. She worked in restaurants in New York for a few years before moving to Los Angeles to do an internship with Michelle Richard at his restaurant Citrus.
After that, Liz did a quick stint with Food & Wines from France doing wine and food pairings with Sommelier Renee Chazot and others. She then moved to Tryst Restaurant as an Assistant Pastry Chef before moving to Checkers Hotel, a 5-star hotel, as Pastry Chef  for 5 years.   She then went out on her own and opened "The Pig, Memphis Style BBQ" in West L.A.  and Universal City Walk as co-owner which received accolades in The New York Times, Newsweek, Bon Apetit, Gourmet and was named "Best BBQ in Los Angeles" by Los Angeles Magazine 3 years in a row.
Liz then taught pastry and restaurant management at The Art Institute of California for 4 years before moving on to Recipe Formulation and New Product Development which has become her passion. She loves to hyper focus on one ingredient and create countless different recipes which allows her head to spin out creatively which is another area of her expertise.
In addition to that, Liz has done many television cooking related segments and is now also working on one of her career highlights, co-writing and testing recipes for "The Sweet Lady Jane Cookbook." In her spare time she loves baking with herbs and teaches classes on the subject.
Check out Liz's recipes to pair with our wines below!
Liz Thompson's Website
Belle Blanc 2019
Our homage to a white Chateauneuf du Pape, with aromas of pear and honeysuckle.
$36 / Bottle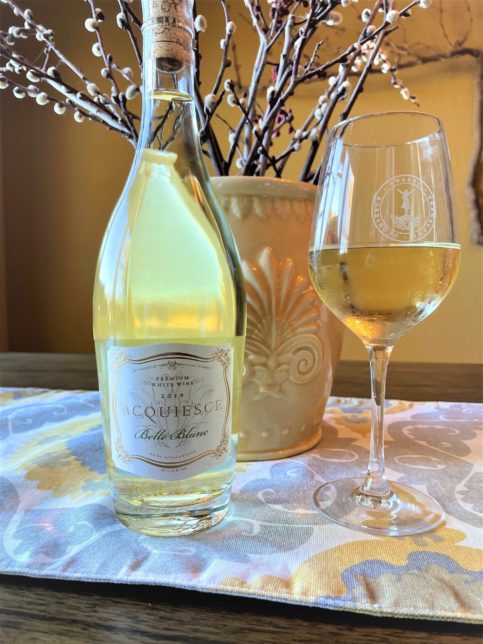 BUY A CASE
CASES SOLD OUT
Sold out
Roussanne 2019
Essence of tea rose, ginger, Asian spices, lemongrass with pear and apricot.
$36 / Bottle
BUY A CASE
CASES SOLD OUT
Sold out